To ensure the connection between your website visitors and the server that hosts your website is encrypted, you should enable a free Let's Encrypt™ TLS certificate.
This is now done automatically for new websites. The steps below are no longer required.
Login to the control panel.
Select the domain you want to add the certificate to from the Domain dropdown at the top of the page.

Click SSL Certificates from the Account Manager section.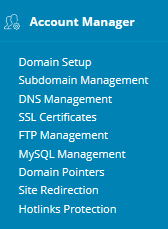 Select Use the best match certificate.

Click Save.